by Robert Petrosyan
As the Sports Analysis Collective at UCI prepares to start its third year of existence, it is time for us to start something new. This is the first article for our new "Fixit" series. In these last couple years, we see teams bounce around between bursts of contentions, and we've seen some teams maintain dynasties and consistent attempts at the title. However, for every dynasty, we have a laughingstock. The dominance of the 1980s San Francisco 49ers was countered by the ineptitude
that was the 1980s New Orleans 'Aints. Michael Jordan and the Chicago Bulls won six titles in the 1990s, while the Dallas Mavericks failed to make the playoffs in that decade. We have plenty of teams in a multitude of leagues that have those seemingly endless struggles today, and we will use this series to attempt to diagnose the problems these teams have, and help them find a way to emerge and become a become respectable organizations once more.
It only seems right that we begin the series with one of the most dysfunctional franchises in sports, the Cleveland Browns. After the original Cleveland Browns left in 1995 to become the Baltimore Ravens, the league added the new Cleveland Browns as an expansion team in 1999, and there has been struggle ever since. That's no surprise for the city of Cleveland, which (despite LeBron James' best efforts) has not had a title winner since the Browns won the pre-merger NFL Championship in 1964. However, in the last fifteen years, the Cavaliers had LeBron James to enjoy for at least half those years, and the Cleveland Indians bounced around .500 in that same period. The Browns, however, won an abysmal 84 games since 1999 (for an average of 5.5 wins/season) and had only one playoff appearance in that span. And unlike other perennial 21st century losers like the Bills, Jaguars and Raiders, there aren't too many reasons for optimism for this team. In fact, the dysfunction seems greater than ever, with QB Johnny Manziel recovering from rehab, talented WR Josh Gordon facing another year-long
suspension for substance abuse, top pick Justin Gilbert facing bouts with immaturity and GM Ray Farmer facing a 4 game suspension for interfering with the coach's decisions via texting. Never has a relatively successful 7-9 campaign felt so gloomy.
With that background being considered, there is a question of what the team should do to fix that problem and make the Dawg Pound proud again. Maybe in 2016 the Cleveland Browns can hire Sonny Weaver Jr. from Draft Day and swindle some teams and get the needed pieces to build a contender, but we'll stick to the realms of reality for this one. Besides, the Browns will need more than just better players to be a better team and organization.
Bring on New Ownership
Whenever a team struggles for a year or two, one can blame that on lack of talent or injuries. If that persists for three years, then the coach could be to blame. When struggles continue for five years, then fingers should be pointed at the front office. However, when a team has been struggling for fifteen years, the problem runs all the way to the top.  In this case, owner Jimmy Haslam has got to go.
Jimmy Haslam is one of the more active owners in the NFL and that's part of the problem for the Browns. As Jason LaCanfora said in his feature on the Browns, Haslam is like Jerry Jones without the football knowledge. Haslam made a lot of decisions that undermined management and led the team astray, such as the drafting Johnny Manziel with the 22nd pick and vetoing a Josh Gordon trade that would've netted a 2nd round pick (good thing he didn't veto the Trent Richardson trade). Additionally, that has created more dysfunction down the Browns' corporate ladder, and there is a culture of interference between executives.
Obviously, Jimmy Haslam can't be blamed for all the ownership troubles of the second iteration of the Browns, seeing as how Haslam only took over in 2012. However, he's done nothing to break the poisonous culture of the Browns, and if anything, it is worse than ever with Textgate and a rebate scandal involving Haslam's Pilot Flying J rebate scandal that involved an FBI raid.
What Cleveland needs is new ownership that can bring some respectability and stability to their organization. Ideally, the new owner should be someone that has a restrained management style, and possesses the necessary patience to foster a stable environment, something Cleveland has truly been lacking. There have been rumors that Haslam may sell the Browns in order buy the Titans of his home state of Tennessee. While those rumors have subsided recently, cleaning house at the top has to be at the start of any significant change for the Browns, and unless Jimmy Haslam has an attitude adjustment and commits to a culture change for the Browns, the struggles in Cleveland will continue.
Revamp the Front Office
Once there is new ownership, the wholesale change must continue at the front office. Textgate is a relatively trivial scandal, and had no impact on the Browns' play on the field. However, it's a severe case of dysfunction and micromanagement, as those down the ladder are stifled from doing their jobs and always have to watch their backs. And firings come very easy in this organization, as one and done head coach Rob Chudzinski would know. Even those higher up, like former GM Michael Lombardi and CEO Joe Banner, were fired after roughly a year on the job.
Those who are lucky enough not to be so unceremoniously fired still resign as soon as they can. A more recent example is the departure of young offensive coordinator Kyle Shanahan. After spending the 2014 season with the Browns, Shanahan resigned from his position in early January and became the offensive coordinator of the Falcons two weeks later. Kyle's reason for leaving? A mandate from the front office that Johnny Manziel be the starting quarterback. The front office has the same problems that the ownership has, and if there isn't reform, then there will continue to be a lack of consistency in the front office and the coaching staff, whether it is due to firings or resignations.
The Browns should consider making changes at the top level executive positions, like CEO and GM. Ray Farmer would have to go, and a new GM has to be brought in that focuses on personnel as opposed to interfering in playcalling. The Browns' draft history has been poor as of late, and
even the picks that have hit, like Jabaal Sheard and Jordan Cameron, have left for greener pastures. Additionally, there was a failure to replace those players, and the Browns rarely make a major free agent signing, and instead have a habit of overpaying mid-level veterans, like Josh McCown and Brian Hartline. Some good GM candidates for the Browns are Omar Khan, the salary cap guru of the Steelers and Brian Gutekunst, a leading scout for the Packers.  With some significant front office changes, the Browns should be able to  have an improved front office base that can finally focus on personnel instead of infighting.
Build Through Defense
Now that we are at our third entry for ways to fix the Browns, we can actually focus on the on-field product. Defensively, Cleveland is doing a respectable job, being 9th in the league in terms of points allowed with 21.1 per game. Their pass defense is especially good, with Joe Haden being one of the best corners in the NFL, and outside linebacker Paul Kruger had 11 sacks. Because of this, the Cleveland Browns are 8th in the NFL in terms of passing yards allowed. The Browns also added Ifo Ekpre-Olomu, a highly touted corner before his stock sank into the seventh round following an ACL injury. If he can stay healthy, Ifo can be a starter and the Browns could have one of the better corner tandems of the NFL. With continued improvements on the safety and pass rush positions, Cleveland could be one of the better teams in the NFL in terms of pass defense.
Rush defense is a different story, however. The Browns finished last year at the bottom of the league in terms of rushing yards, and in a division that features Le'Veon Bell, Jeremy Hill, Giovani Bernard and Justin Forsett, such a significant weakness could keep them locked in the AFC North cellar. The Browns added defensive lineman Randy Starks to help shore up the trenches, but
they'll need more than one addition to improve the run defense. Drafting Danny Shelton, the behemoth nose tackle, should go a long way, but the best way to improve defense is through chemistry and schematics. Luckily for the Browns, coach Mike Pettine has made defensive improvement a top priority for the team, so there are a lot of reasons for optimism in this area of concern for the Browns. The Browns had defensive success early in 2014 during their hot start to the season, and if the Browns can build on that and add to their linebacker and safety core,  they could potentially be a .500 team.
Cowboy Up at the Trenches
When looking at playoff teams and perennial contenders in the NFL, these teams generally have an excellent offensive line. Offensive linemen may be under-appreciated, but they are crucial to the offensive function of a team. A running back won't have room to run if the linemen don't create room to run, and a quarterback won't be able to complete many passes if the line doesn't give adequate protection. The Browns are hardly lacking for offensive line talent, but the coaching staff should make it a priority to take the line to the next level.
The Browns already have two All-Pros on the line in left tackle Joe Thomas and center Alex Mack. The rest of their starters, like right tackle Mitchell Schwartz, are serviceable guys needed to create a great offensive line. Then there's Cameron Erving, the Browns' second first round pick, who is highly versatile and capable of playing any position on the offensive line. As the Dallas Cowboys demonstrated last year, a good offensive line could reap wonders for a football team, and Pro Football Focus' 6th best offensive line of 2014 could be in for an even better run for 2015.
As good as the Browns' O-line is, however, they still need to get some issues figured out in the skill positions, or else the team will continue to struggle. Specifically, Cleveland must decide who its bell cow running back will be. Right now, it looks like a battle between Isaiah Crowell and Terrence West, Both of them have a similar playing style and similar stats, The edge would probably go to Crowell, since he has more room to grow, and is the more talented young back. However. both West and Crowell are deficient in the passing game, and with a young QB in
Johnny Manziel being the likely Browns starter, this is a huge problem that the team must immediately address. Pierre Thomas, the former New Orleans Saint, would be a great addition for both his pass catching ability and his veteran experience.
Speaking of Johnny Manziel, Cleveland's new offensive coordinator John DeFilippo must instill more discipline into the young QB and encourage him to make quicker reads and discourage him from holding on to the ball too long. A lot of times last year, Manziel made scrambled around like it was college only to be taken down for a ten yard loss. No matter how good an offensive line is, they can only provide good protection for so long, and if a QB holds on to the ball for too long, the onus is on the passer, and not the line. DeFilippo's system should help with that, as it is centered around shorter passes to running backs and tight ends, as opposed to the long ball. Once the rest of the Browns offense can optimize the strength of the offensive line, Cleveland could have a respectable offense in the mold of what they had last November, when they were 7-4.
Don't Reach for a QB
No picture exemplifies the last fifteen years for the Browns quite like this photo to the right. So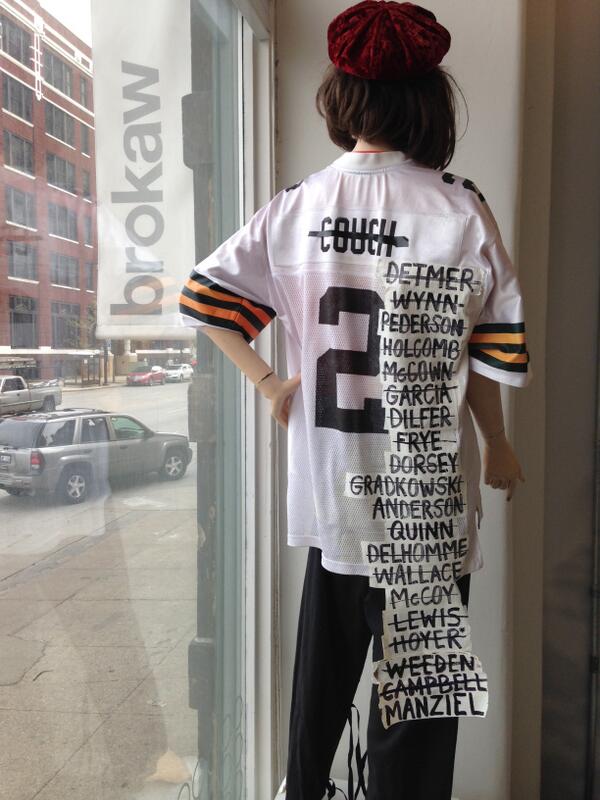 many quarterbacks that just didn't pan out, whether they were rookie hopefuls like Tim Couch and Brady Quinn or veteran journeymen like Jeff Garcia and Jake Delhomme. Now, the Browns have one of both, with a veteran in Josh McCown and youngster in Johnny Manziel. It appears that Josh McCown may be the starting quarterback for Week 1, but at age 35, he clearly is not the future of the Browns, and we should anticipate a mid-season handover to Johnny Manziel,
Manziel, however, clearly failed to live up to the endless hype last season. He only had two starts,  both losses and had a QB rating of 42. However, that is still a fairly small sample size, and having already hit rock bottom last season, Manziel should provide some improvement this year, especially with proper coaching. One of the Browns' biggest problems is impatience, and at the very least, Cleveland should give Manziel another year so see if there is enough improvement to warrant his retention.
Ideally, what the Browns should do is start the season with Josh McCown and give the QB job to Manziel around Week 7 against the Rams or Week 8 against the Cardinals in relatively low profile games (ideally you'd want to start him against a weak defense, but the Browns lack that luxury this season).  If Manziel does well in his starts, stays healthy and keeps himself out of trouble, Cleveland should build around Johnny Football and they might have the closest thing they've had to a franchise quarterback since Bernie Kosar. The Browns would finally be able to focus on the positions they've neglected in their pursuit of a franchise QB, such as the wide receiver and safety positions.
However, if Johnny Manziel has an equally terrible 2015 season, whether on or off the field, then the Browns should look elsewhere for their quarterbacking needs. However, it is crucial that they abstain from reaching too far in drafting a quarterback. Too often, they've drafted a quarterback in the late first round expecting them to be career starters, only for them to fizzle out. Brady Quinn, Brandon Weeden and Johnny Manziel were both taken with the 22nd pick of the draft, and while Quinn was expected to have gone much earlier, both Manziel and Weeden were reaches, and they failed to live up to expectations. What the Browns should do is keep an eye on the incoming QB class and only draft one if Manziel shows no improvement and there is a surefire franchise QB available. Anything less is just going to be another name on that infamous jersey. Names to watch include Connor Cook of Michigan State, Christian Hackenberg of Penn State and Kevin Hogan of Stanford. If none of them are available when the Browns pick, they shouldn't use up their first rounder on a second round prospect, and should instead take a slow development approach with a mid round QB, or just sit out the class completely and roll with a veteran.
The Outlook For Now
Right now, things don't look too good for the Browns, but the defense and offensive line gives some reason for hope and should keep them out of the AFC cellar. The QB situation is one to watch during training camp, and the Browns may kick the tires on some free agents to see if they fit with the offense. I'm sure they could use the second coming of Victor Cruz as much as anyone. For this season, I predict the Browns going 5-11. They made some improvements, especially on defense, but the offense still lacks talent in the skill positions (despite adding Dwayne Bowe). The 7-9 performance (and 7-4 start) of last year seems like a tough one to replicate given the much harder schedule of this year, having to go up against both the AFC and NFC West. In the offseason, in addition to their focus on the NFL Draft, they will have a tough decision to make regarding the future of center Alex Mack. However, seeing as this team has more issues in the front office than on the field, it will take more than a year of work to emerge from this long term crisis.